By implementing the Orbweaver Platform, Venkel now delivers real-time part information, pricing, and inventory to close more deals, faster.


By partnering with Orbweaver, Venkel,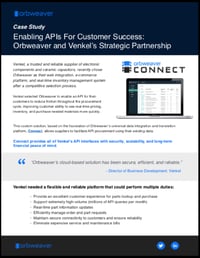 a highly awarded electronics component supplier in the electronics industry now provides their customers real-time inventory data, pricing, and order management via API. Leveraging the Orbweaver Platform enabled Venkel to save valuable time, money, and resources while increasing speed to market and facilitating additional potential business with accurate and reliable data.

In this case study, you'll learn how Venkel leveraged Orbweaver Connect to:
Provide real-time part information updates, enabling customers to purchase materials quicker.


Support millions of API queries per month


Automatically generate, manage, and match purchase orders with part inventory to eliminate hours spent processing thousands of RFQs and POs, reducing and allowing employees to focus on generating more business.


---
"After considering several other companies, we were impressed with Orbweaver's comprehensive understanding of our industry. They immediately spoke our language and knew the complex nature of the part data we were managing manually. They listened to our problems and provided solutions to automate key processes which ultimately had a direct impact on our business."

- Director of Business Development, Venkel

Download the free case study to discover how Orbweaver Connect can enable APIs to generate real-time pricing for your customers to streamline internal processes, improve employee productivity, and close more deals.