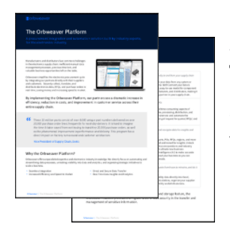 Download the Orbweaver Platform Solution Sheet
Manufacturers and distributors face common data management challenges in the electronics supply chain: inefficient and manual processes, precious time lost, and valuable business opportunities left on the table.
Orbweaver, an all-in-one integration and automation solution built for the electronics industry, simplifies the electronics procurement cycle by integrating our partners directly with their suppliers and customers, saving valuable resources and increasing speed to market.
Automate the most time-consuming procurement touchpoints such as RFQ intake, processing, distribution, and analysis. Our solution sheet breaks down all of the benefits provided by the Orbweaver Platform for your company's sector of the electronics manufacturing industry.
The Orbweaver Platform allows companies along the electronics supply chain to:
Connect dissimilar data systems through seamless integration
Process the intake of RFQs & POs more efficiently with direct and secure data transfer
Generate customized quotes for increased speed to market
Cross-reference inventory to close deals faster with real-time data insights and analytics

Download the Orbweaver Platform solution sheet and discover how automating and simplifying your electronics procurement process can help you win more business.