Within the electronics industry, the secure intake and management of massive amounts of components, RFQ, and purchasing data from dissimilar systems and software databases is a complex challenge.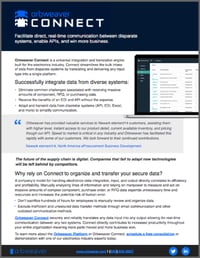 Throughout the electronic parts supply chain, employees are forced to spend hundreds of hours manually managing and analyzing data, instead of focusing on valuable, high-level initiatives to cultivate more business.
These inefficiencies reduce productivity and impact the time employees spend on client relations and generating new sales.
In this one-page solution sheet, you'll learn how Orbweaver Connect:
Securely and reliably intakes data from various sources into a single platform
Translates electronics data from any file type, (API, EDI, Excel and more)
Improves communication and productivity throughout the supply chain

Download our solution sheet and discover how you can save your employees hundreds of hours typically spent on manually reviewing and organizing data.